Redwood Moon Eucalyptus Yoga Bra Top

$64.00 USD
We aren't sure how safe it is to wear polyester while exercising. Polyester is made from crude oil. It's plastic and bad for the environment. Recycled plastic is still plastic. Activewear made from eucalyptus is superior in every way- it outperforms synthetic activewear by being lighter, cleaner, and healthier. Let your skin breathe again. 
The yoga bra top is double layered and seamless on both sides and provides the perfect harmony of support and relaxation while wearing. It's a beautiful substitute for a bra and feels like you're wearing nothing!
Handmade from sustainable tencel from eucalyptus trees, organic cotton, and spandex. Hand dyed redwood brown with hand printed moons in white non-toxic water-based ink.
Nicole is wearing size S and is 5'8", 27" waist, 36" hip, 32" bust.
This piece ships in 4-6 weeks as all our clothing is handmade just for you! Nadya hand sews + Hayley hand dyes and prints. We typically have around 100 orders we're working on at a time, and add orders to our queue as they are received. To learn more about our process please read HERE.
Customer Reviews
01/07/2020
Britney A.
United States
This top is THE perfect fit!
This top is a beautiful color! It's so soft and fits firmly, and comfortably. Everything stays snug and the print is great quality. Will definitely be buying more from these ladies. Love it!! I'm a size M and the top fit true to size.
01/06/2020
Vivian A.
United States
Never want to go back to cheap yoga clothes (clothes in general) again!
I'm not joking when I say that I. LIVE. IN. THIS. SET. I literally wear it every single day. I get really itchy on my bum and legs when I wear spandex (or even tights!) and never fully understood why, but I realized it was probably whatever it was made out of, like polyester (plastic), nylon, spandex. Yes, these have a very small percentage of spandex in them, but you can FEEL the difference. It's also incredible how everything is made to order in batches and I swear that you can feel the love in them. I've never been so happy with a clothing purchase and I hope others will choose to purchase as well! It's worth the money indefinitely.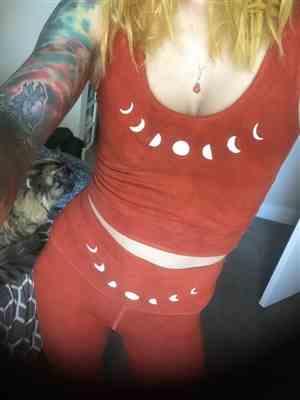 01/03/2020
Erin L.
United States
Everything I hoped for and more
I adore this bra top!! It's way thicker than I thought it would be which is amazing. It hugs me in the best ways possible! I'll def be back for more.
11/16/2019
Amber H.
United States
11/12/2019
Eily A.
United States
In Love!
I can't get over how soft & comfy this top is! It's gorgeous in person too. Will definitely be stocking up on more colors!!