Customer Reviews
Write a Review
Ask a Question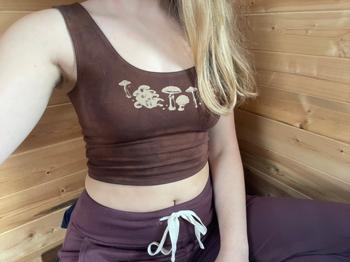 01/21/2022
Love!
As with everything purusha people, I love this tank. Earthy color & shrooms - what could be better?!
Madeline K.

United States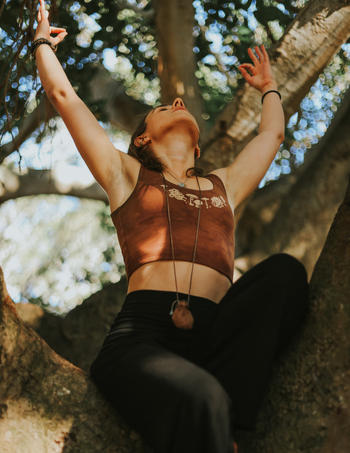 01/16/2022
For when you want to feel like a nymph goddess...
When I want to feel grounded, I wear this top. When I want to remember my wild roots and reconnect more deeply with them, I wear this top. When I want to feel like a nymph goddess, I wear this top! The design becomes a mantra; a part of my yoga practice, every bit as meaningful as the intention I set for myself as I join my hands in anjali mudra. When I practice yoga, I pay attention to what I am inviting into my space; I roll out my mat with care, light incense or diffuse oil, and put on something comfy. Why shouldn't that last step be every bit as mindful as everything else I do to prepare for my practice? Purusha People is about adorning your temple in that which is LIVING. Forest fibres that BREATHE with you. I've tried many "activewear" garments, and let me let you: nothing wears like Purusha. Both in terms of durability and comfort. I LIVE in my Purusha People clothing and it looks as gorgeous and vibrant as the day I pulled it out of it's recycled envelope when it arrived on my doorstep. Wearing living fibres just FEELS DIFFERENT. You won't know until you try it and feel the difference for yourself. You'll never go back to "normal" activewear.
Kate

United States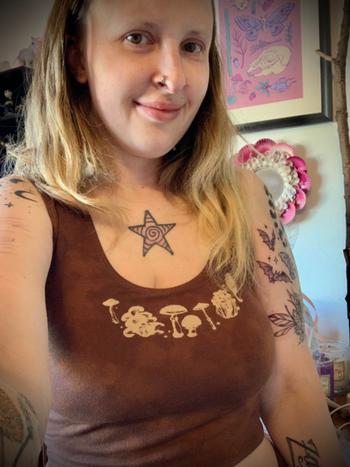 12/18/2021
So pretty
I am always wearing one of these tops. They are so soft and the mushrooms are my favorite. I also love the marble effect with the browns. In another review I said they were a bit difficult to breastfeed but after trying a few more times, I want to take that back! They are super easy to breastfeed from the bottom. I think I was just being lazy from being braless so long!
Petra O.

United States