Customer Reviews
Write a Review
Ask a Question
07/03/2022
Beautiful color and amazing quality
I was hesitant to spend so much on a top, but I really appreciated the transparency into where the cost comes from, so I decided to take a chance. As someone who is used to spending $20 on fast fashion tops, the difference is night and day! It is clearly thoughtfully designed, made with superior materials, and with a focus on quality. The shirt feels like a compression sports tank and is supportive enough to wear braless, so that's how I've been wearing it. The top is stretchy, so you could size down for more compression or up for more boob room. My one complaint...I have the combo of small band/big bust, so unfortunately the top REALLY squishes my boobs down to nothing, which isn't really that flattering. I can't really wear a bra under it because it shows in the arm holes and also pulls the top up so much it is more of a sports bra than a long crop tank. But, if you are a standard matrix bra size OR are looking for something minimizing this probably wouldn't bug you. For me, I'll just accept that it's for sports and other times when I don't care if it looks like I lost 5 cup sizes off my boobs lol
Mary B.

United States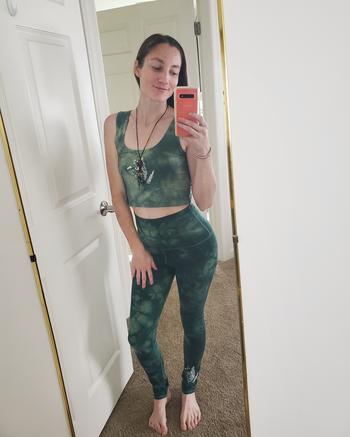 07/01/2022
SET OF MY DREAMS!
Hands down, the sexiest outfit I've ever owned. I can't describe how good I feel in this. Knowing it's made with earth & body friendly materials and by a company I have been loving for years are cherries on the top. I could fill a book with all the reasons why I love Purusha People, but really you should just check them out yourself and see just how amazing clothes can be when it's done this good.
Ashleigh

United States
07/02/2022
Love love love
This top is my favorite new piece! The color is exquisite and the fit is so great! Sizing is perfect!
Sabena P.

United States
07/01/2022
My Favorite
If I had to choose... this top would be it. It's my favorite color and the print really resonates with me.
Emily B.

United States