Redwood Moon Eucalyptus High Waist Leggings

$106.00 USD
WHEN SHOULD YOU WEAR THEM?

Whenever you would wear your old school plastic polyester workout leggings. Your Redwood Moon leggings protect your body from yucky chemicals and save the earth from microplastic.
WHY THESE LEGGINGS ARE AWESOME
Pants made from a tree are a beautiful thing! Our Redwod Moon leggings are crafted from eucalyptus tree wood pulp so you don't have to worry about exercising and sweating in something synthetic and chemical-ridden. Don't worry though, eucalyptus feels like silk and doesn't at all resemble tree bark ;)  The organic cotton is certified organic and fair trade OEKO TEX (fancy speak for it's awarded for being ethical and pesticide-free).
*NEW! Choose your legging thickness! Brought by popular demand, we now offer our leggings in a single layer for warmer weather and more breathability (regular price and returnable), or doubled layered for cooler temps and if you have any concerns about opacity (for $25 more and eligible for exchange only).
WHY THESE LEGGINGS ARE SLIGHTLY LESS AWESOME
Being plant-based our leggings might feel lighter and thinner than your typical thick and stuffy polyester legging. Some people say they're like not wearing any pants at all! Which is great when you're sweating and moving, no one has time for pants that feel like... too much pants! Also, they do contain 6% spandex, which is a petroleum-based ingredient. Without it, your leggings wouldn't stretch and no one- you or the planet- would benefit from a product nobody wants because we refused to add a stretchy element to it. Until we can all exercise in loose woven flood pants and tunics (unlikely), or until someone invents a plant-based stretch fiber (yay science!), this is the best we've got. So much better than 100% plastic though, don't you think?
WHERE DO THEY COME FROM + WHO MADE THEM?
Our eucalyptus is sourced from sustainable tree farms in Austria and neighboring countries, where the trees are grown for fibers so you don't have to fret about deforestation. The organic cotton is certified fair trade from India. The eucalyptus and organic cotton are knitted into fabric in Canada. Nadya, my best friend, and my super talented seamstress, hand sews each and every piece in her home in the desert in Southern California. I (Hayley), hand dye and hand screen print everything in my basement in Northwest Connecticut. (Very, very glamorous, I know!)
INGREDIENTS
66% eucalyptus tencel, 28% organic cotton, 6% spandex, 100% cotton threads, low impact dye, water-based non-toxic ink.
BORING (BUT IMPORTANT!) INFORMATION
These leggings fit with a high waist that's elastic free and can be folded over. They feature a diamond gusset (vagina protector so you're comfy when you move!), flat athletic seams, and a pocket at the back waistband large enough to hold your iPhone. No itchy tags because the tags are sewn inside the pocket!
One of my other BFF's is modeling the clothing- it's Nicole! She's wearing size S, standard length and is 5'8", 27" waist, 36" hip. Our leggings run true to size.
THE LAST BIT OF SUPER IMPORTANT INFORMATION (I KNOW, IT'S A LOT, SORRY!)
This piece ships in 4-8 weeks because we don't carry ANY inventory. Don't freak out, I PROMISE it will be worth the wait. Think of it as bespoke yoga wear, custom made for you. But, why?! Cue crying emoji. Because: 1. We can't afford to stock multiple items in 9 sizes for 40 different styles (we're handmade y'all, not a factory!), and 2. It's better for the environment to produce less and not make a bunch of stuff without knowing if anyone will ever buy it. The top harm to the environment in the fashion industry is throwaway fashion, so we're avoiding this all together by only bringing clothes into this world that people really want. By the time your clothes are done you will be amazed at your patience and probably feel pretty proud that Amazon Prime hasn't destroyed your ability to wait for something special! Go you!
Customer Reviews
05/21/2020
Lena D.
United States
Beautiful, soft, and my new favorite leggings
These are really gorgeous. I couldn't believe how soft and comfortable they were when I first put them on. They've become my new go to leggings when I'm practicing yoga or just hanging around the house. I'd like to replace all of my leggings with Purusha People!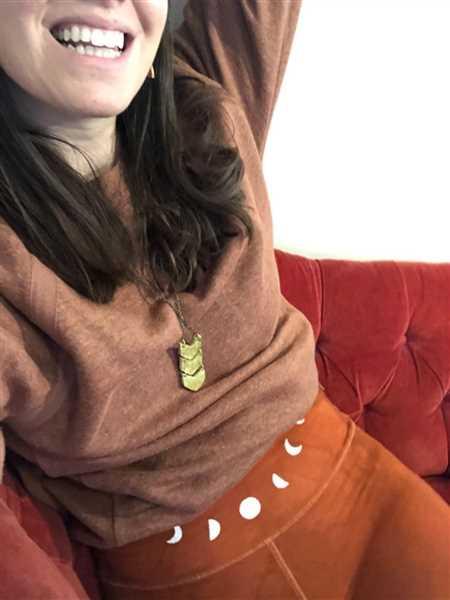 05/21/2020
Alexa Y.
United States
05/18/2020
Aliza M.
United States
Beautiful unique piece
I love these leggings. They fit my hips and don't fall when I stretch or hike in them. They are pretty long but definitely fit me- worth noting if you are shorter though (I'm 5'5''.) They took 6 weeks to get to me but it was so exciting once they arrived. I love supporting the smaller business especially since they are such good quality. Definitely want another pair.
05/08/2020
Sophie B.
United Kingdom
Updated rebiew
Wonderful soft leggings i couldnt edit my reviews byt i am swapping these as the oramge was brighter than photos, though the material is amazing and soft and i definitely want to buy more in future , i would say the sises come out large so suze down if unsure ♡♡♡
05/02/2020
Sophie B.
United Kingdom
Great quality Brighter than photo
Great leggings, just about fit me as a size uk 12, if i lose weight back to a size 10 im likely gonna need to buy an XS size so they do not slip down, the material is very stretchy, i will be wearing these a lot soom and i love the quality, the dark orange colour is lovely aswell but i was hoping for a slightly more brownish orange as it looks in the photos which i prefer as i dont really wear plain orange but i will be happy with it for now as im likely losing weight anyway so will be buying a different size in future.i habe not worn them out yet but i already know they will wear well as i have purchased an alternative pair previously from this shop.